Introduction to Nagarhole
A National Park is defined as a protected area for flora and fauna to thrive. One such national park that was built with the purpose to conserve the natural world is Nagarhole. The park is brimming with beautiful sights such as that of mountains, streams, valleys, waterfalls, and lush green forest. It is deemed as the perfect habitat for the wild.
Many people might not be aware of the Nagarhole National Park as now it has been renamed to be called the Rajiv Gandhi National Park. The forest is home to a variety of animals, birds, and plants. It is a great place for anyone who seeks the thrill of adventure and appreciation of the wild. The park is located in Karnataka, and the state itself is known for its amazing nature. Choose the best wildlife tour operator, who can visit you every corner of the park.
Overview
Closest Access:
Mysore (80 KMS)
Location:
Karnatka, South India
Best time to visit:
October to May
Total coverage area:
64,300 Hectares
Major Wildlife of the park:
Tiger, Leopard, Wild Dog, Elephants, Sloth Bear
Location of Nagarhole National Park
Nagarhole national park is located in Karnataka, India. The national park ifaces the north west edge of the Bandipur national park and is situated in two districts – Kodagu and Mysore. It extends to cover a wide area that is estimated around six hundred and forty three kilometers. It is at the baseline of the western ghats. The national park is adjacent to three other national parks – Bandipur, Mudumalai, and Wayanad. The adjoining national parks are the reason for the ever-increasing population of animals around. The altitude or the elevation of the national park ranges from 680-metres to 1444-metres.
There are four different areas in the park:
North – The major natural attractions here are Kabini river and deciduous forest. These two components are the reason for a rich population of wildlife in the northern side of the park.
Southeast – There is not much vegetation on this side of the forest. This area is perfect if you are a bird lover since it is home to many exotic species of bird kind.
Centre or the middle range – Animals like deer and elephants can be spotted here. It is located on the backside of the Kabini river.
West – This area is filled with rivers, streams, waterfalls, hills, and different kind of vegetations. This place is known for its scenic beauty. Animals that require a dense population of trees reside here.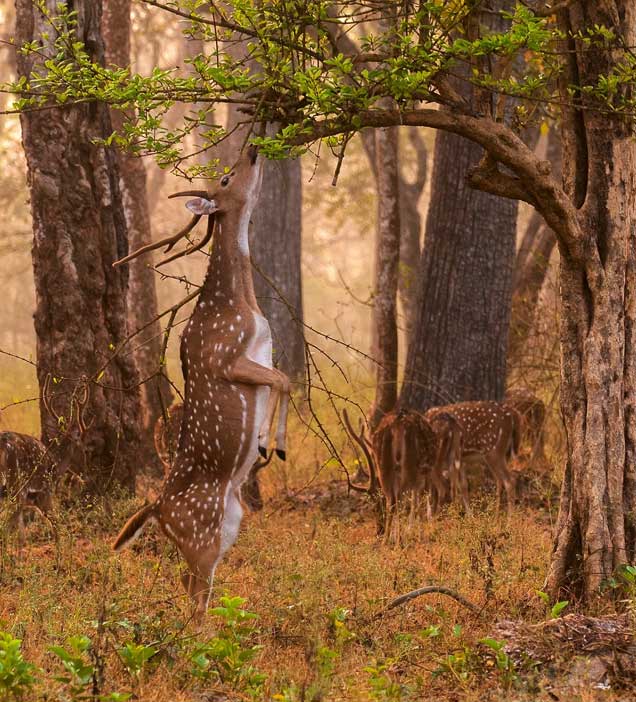 History
The name Nagarhole was given to the park as many small streams pass through the forest. Naga means snake and hole means an opening. The place is given the 'Naga' prefix mainly because the shape of snake closely resembles that of a stream.
The forest was a hunting ground for the Mysore rulers, mainly the Wodeyar dynasty. They use to mainly hunt and tame elephants. After their rule, even Britishers used the forest to hunt for game.
The park was established in 1974 and in 1988, it was announced as a tiger reserve. The national park has been successful in conserving endangered species. Laws were passed to ban hunting which assisted in reducing the illegal trade of animals to a large extent.
The animals are well-bred here and are taken care of with the utmost dedication. The history of the park represents the transition of the hunting ground to something that built to preserve the beauty of wildlife. Taking into account the adjoining national parks, the Nagarhole National Park stands as one of the largest national parks of the country.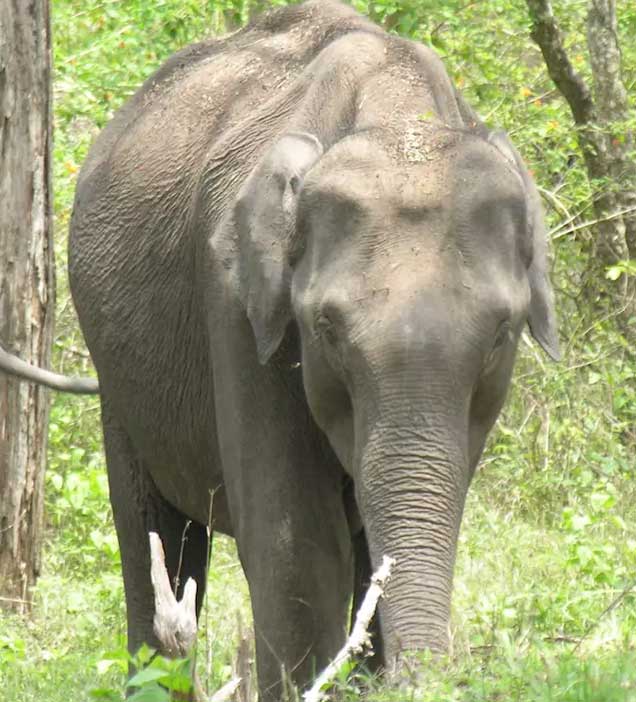 Wildlife of Nagarhole national park
The forest is home to carnivores, predators, herbivores, and omnivorous animals. Each of the animal types boasts of a large population within the area. The park also serves as a home to common as well as endangered species of animals. The lush green forests and dense vegetation that covers the parks allow the residing animals to stay protected while enjoying the sense of being within their natural habitat. The major attractions here are Bengal tigers and Asian elephants.
A few of the animals that you can spot here are Bengal tigers, deer, elephants, Indian bison, Asian leopard, wild dogs, golden jackals, hyenas, grey mongoose, sloth bears, sambar, barking deer, spotted deer, four horned antelopes, wild boar, palm civet, strip neck mongoose, brown mongoose, mouse deer, black naped hare, red giant flying squirrel, Indian pangolin, Indian porcupine, Indian giant flying squirrel, grey langur, Ussuri dhole, jungle cat, slender loris, bonnet macaque, European otter and chevrotain.
The population of animals is huge and diverse. The national park ensures that the number of animals keeps on increasing. They conserve endangered species.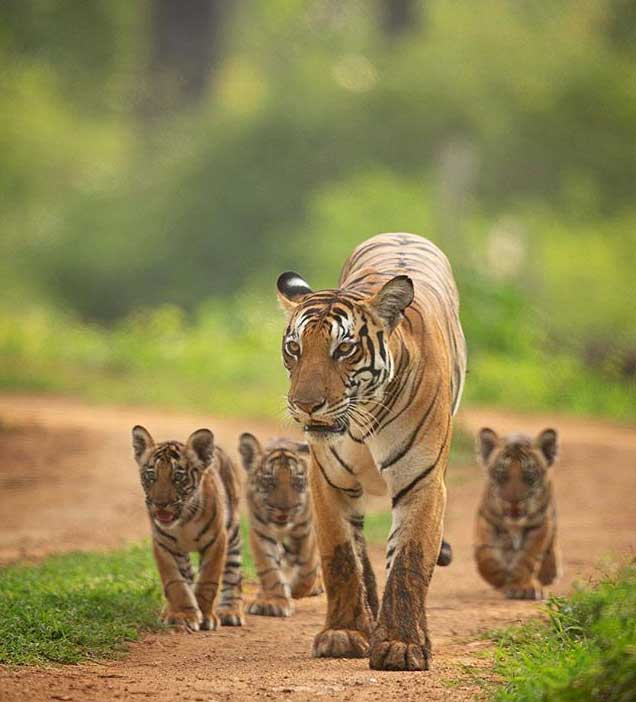 Birds
The number of species that can be found here is two hundred and seventy. It is a great place of study of ornithologists. The forest has endangered and vulnerable species of birds. Carry a pair of binoculars to see these beauties.
You can spot oriental white backed vulture, herons, lesser adjutant. Greater spotted eagle, Nilgiri wood pigeon, oriental white ibis, darters, greater grey headed fish eagle, blue winged parakeet, red headed vulture, Malabar grey hornbill, white bellied treepie, white cheeked barbet, Indian scimitar babbler, Malabar trogon, Malabar whistling thrush, tainted bush quail, Sirkeer Malkoha, ashy prinia, Indian Robin, Indian peafowl and yellow legged green pigeon.
The national park is a literal paradise for all the bird lovers. Also, check out birding tour India.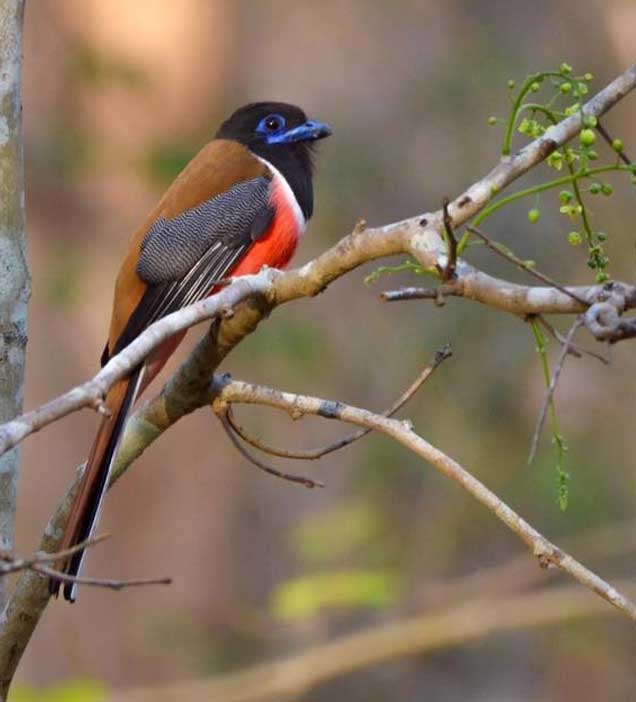 Reptiles
Crocodiles and snakes are the major reptiles that can be found here. Place where it is moist and wet, the number of reptiles are more there. There are few endangered species of reptiles that can be found here. Due to the dense vegetation, snakes can also be seen on trees and land.
The species of reptiles that can be spotted here are common wolf snake, mugger, common wine snake, bamboo pit viper, rat snake, common krait, Russell's viper, Indian rock python, Indian monitor lizard and the common toad.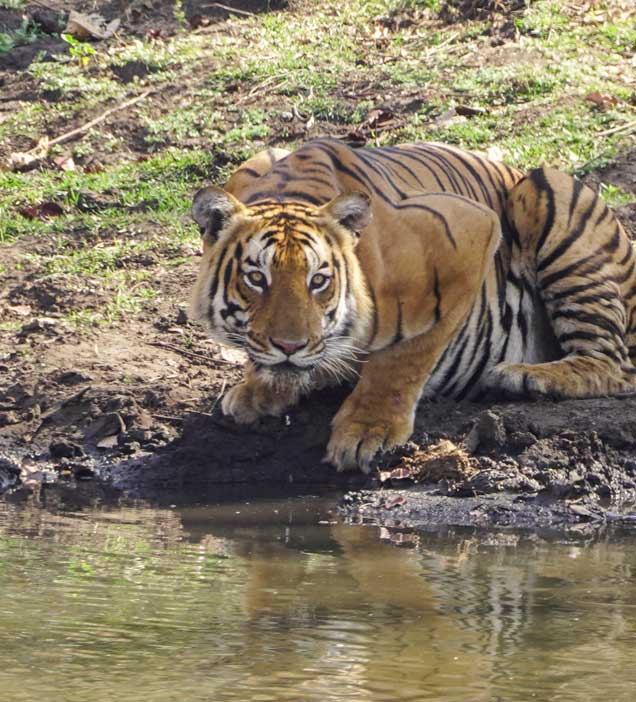 Insects
The population of insects is dominated by dung beetles and ants. There are around ninety six species of dung beetles and sixty species of ants. You obviously won't be able to see ants, unless you are too close to them. There are some amazing variety of ants and beetles. You won't be able to explore them anywhere else.
The species that can be found here are Tetraponera rufonigra, common dung beetle, India's largest beetle, and Onthophagus Pactolus. Some species of ants are useful for growing plants in the forest as they feed on termites. They make sure that the number of termites doesn't go overboard.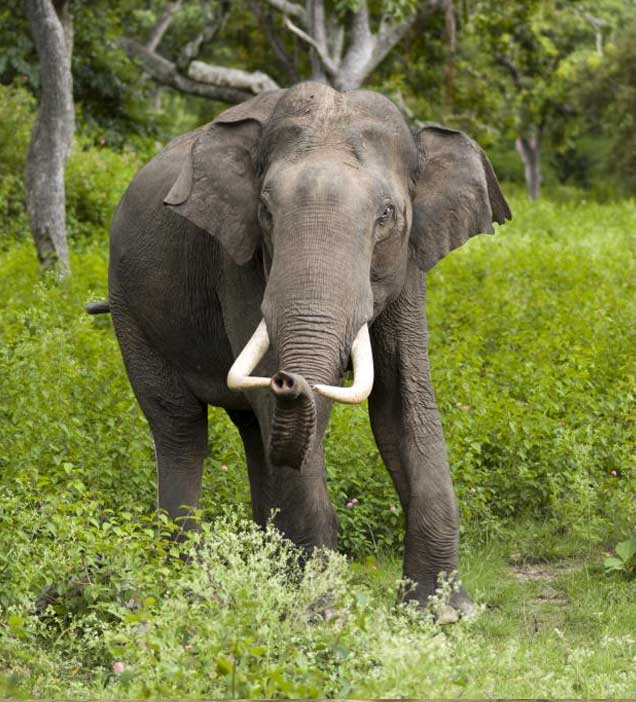 Vegetation in Nagarhole National Park
There are dry as well as dense areas of vegetation. Moist deciduous forest covers the northern part of the forest, and dry deciduous forest covers the central Deccan plateau. And thorny species of plants can be seen growing in the east.
The plant's species found here are silver oak, rosewood, sandalwood, teak, crocodile bark, crepe myrtle, Indian kino tree, axle wood, Pala indigo, Eugenia, Lagerstroemia microcarpa, Kadam, cotton tree, Schleichera trijuga, focus, Kydia calycina, Indian gooseberry, and beechwood.
Some more tree species that can be found here are golden shower tree, the flame of the forest and clumping bamboo.
Shrub species that can be found in the park are horse nettles, tick clover, Helicteres, lantana and bonesets. With abundant of trees and plants, Nagarhole becomes the most suitable habitat of animals. Vegetation provides enough food and a place to live to the animals of the park. It also controls the climate and makes it suitable for its population. The colorful varieties of plants and flowers give the national park its beauty. There are some plants which are also used in medicine. The land of the forest is also very fertile, and more plants can be grown here.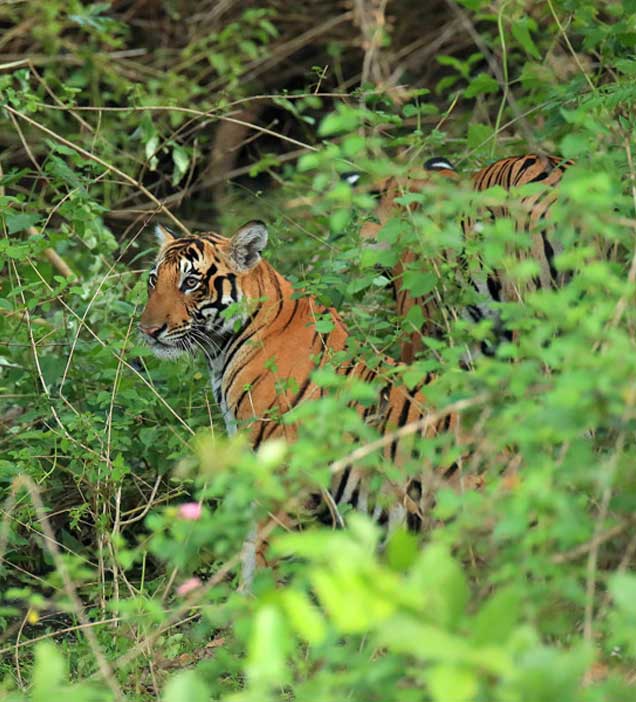 Things to do in Nagarhole national park: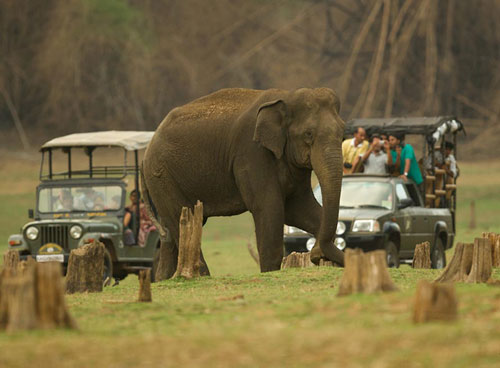 Safari
Safari is the main activity that you can experience in any national park. With hundreds of animals and birds, it is important that you explore them. Jeep and bus safaris are conducted here. These safaris are for exploring land animals. To explore aquatic animals, Nagarhole also has boat safaris. With different kind of safaris, you can experience different zones of the forest. It is one of the most magical experiences that you will go through. You'll be amazed to see the varied varieties of wildlife and nature.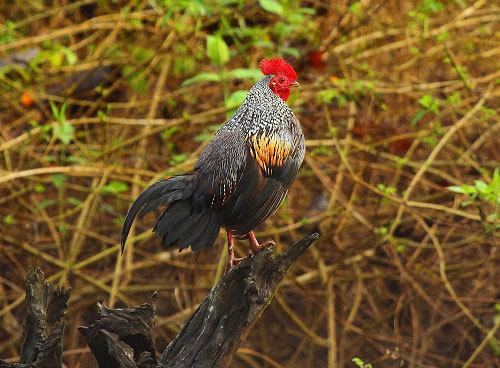 Bird watching
As there are more than two hundred species of birds, tourist also comes for bird watching. You can grab a pair of binoculars, and you are ready to experience the beauty of birds. They add so much color and grace to the forest. Birds like herons and species of eagles can be easily seen. During summer, the majority of the birds flock near the water bodies. So if you are traveling in summer, then you can easily spot birds. There are some migratory birds which reside here during the migration period. If you have a guide with you, he can also help you identify the names of the birds.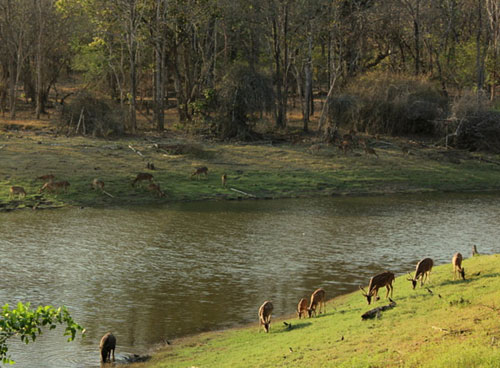 Trekking
If you are with some tour company or a guide, you can ask them to arrange a trek for you. It will double your experience, and it will be fun to roam on the jungle trails. It is one of the most exciting activities of the national park. You can easily watch birds and insects while you are trekking. Make sure you wear comfortable clothes while trekking. Arranging the trek by yourself could be difficult and dangerous. You can also observe varied vegetations while you trek. It is going to be one of the most thrilling experiences of your life.
Places to visit around Nagarhole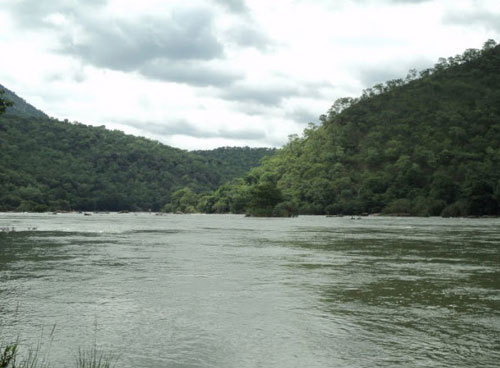 Mysore
The city is only fifty kilometers away from the national park. It is a beautiful city and is full of nature. You can visit Kaveri lake, Mysore Palace, local zoo, Chamundeshwari temple, Gagan chukka, Karanji lake, and GRS Fantasy park. There are various other places on the outskirts of the city. You can explore as much as you want. Mysore is filled with gardens and water bodies. The population of monkeys is also very high here. It is a perfect spot for spending some time with your family.
Bandipur National Park
With varieties of flora and fauna, Bandipur is also a major attraction. It has open jeep and bus safaris. You can see deer and elephants from a very close distance. It also has dense forests, and the trails of the park are very tough. Tigers can be spotted here if you are alert. You can also see birds flying or resting on trees. Various kinds of reptiles are also found here.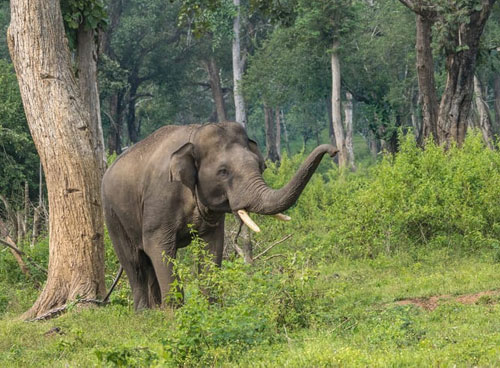 Brahmagiri Wildlife Sanctuary
It has its name from the Brahmagiri peak on which it is situated. It very near to the Nagarhole national park. You can see endangered and rare species of wildlife. The type of the forest is evergreen and semi- evergreen.
There are many rare reptiles that can be seen here. Besides the normal vegetation of the forest, coffee and cardamom plants are also seen here. This place contributes to the production of coffee in the southern states. A sanctuary is also a trekking place. If you want to be adventurous and make your trip more thrilling, you can plan a trek to the top of the Brahmagiri hill. If you have a guide with you, it is simpler to plan these activities.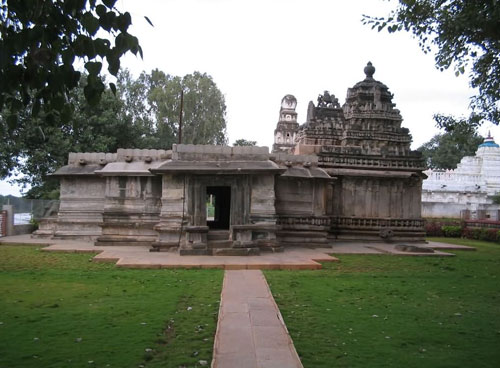 Rameshwara Temple
The temple is made as an offering to Lord Shiva. Many people in South are devotees of Lord Shiva as he is the father of their main god named Kartikeya. It is told that whosoever visits this temple and prays here, all their sins get forgiven and they can start fresh. This is the main reason that the temple is always crowded with Shiva devotees. It is a good place for family outings, and you will have a peaceful experience. The place is built very simply.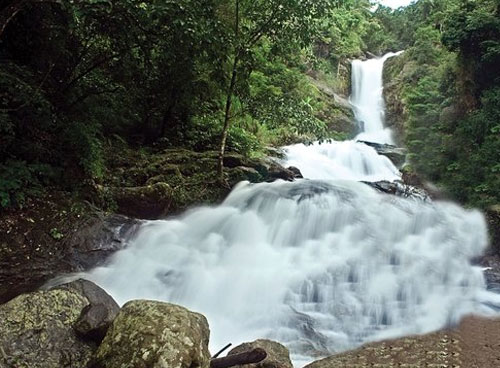 Iruppu falls
It is not very far from Rameshwaram temple. So after you have prayed in the temple, you can head over to view these falls. The are tributary of Kaveri river and is backed up by an amazing landscape. If you visit the place during monsoons, you can see the falls in its full speed. It is a perfect place for nature photography. It is near Nagarhole national park and can be visited on the same day.
Kuruvadweep
It is an island that is situated in Kerala. There are many activities that are conducted here. It is close to the national park, and you can visit if you are staying for a few days. The main activity that goes on here is river rafting. It is absolute fun to make your way in the river. The island also has good vegetation and can be a place for nature photography. Also, there are very low chances of spotting an island, so you can explore the island here.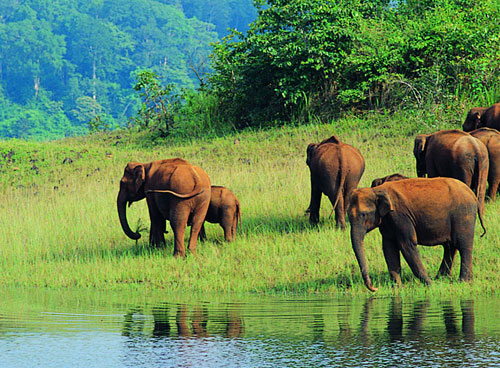 Wayanad wildlife sanctuary
It is an amazing place to spot elephants, deer, and tigers. You can easily spot them here. It is very close to the national park. It has safaris so that you can explore the wildlife and vegetation here. If you are visiting Nagarhole, then you should also visit the three adjoining national parks. There is a greater chance of seeing animals, and it will be a good trip.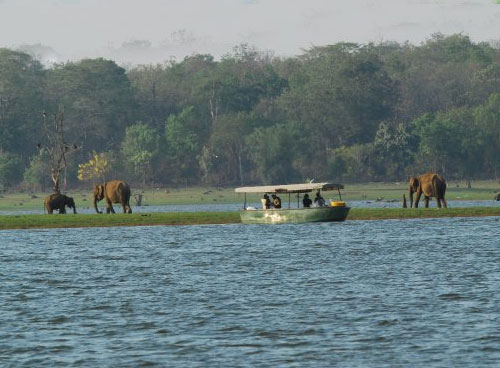 Kabini river
Kabini river is situated inside the national park. It has a reservoir built on it and is a tourist attraction. Many animals can be spotted here. The place is also famous for photography. Other than the reservoir, there is a place behind it named as Kabini backwater viewpoint. It is a point of relaxation.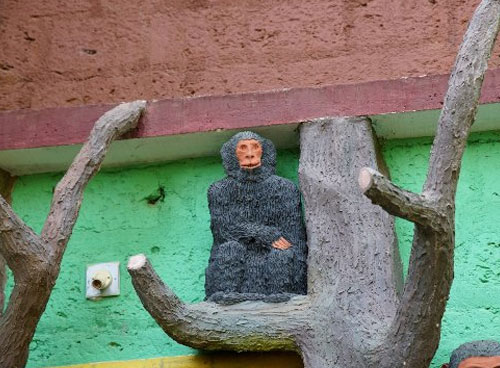 Valmeekam Tribal Museum
It is in Kerala and a little far away from Nagarhole national park. This museum comprises of the tribal history and other tribal components. All the art and history lovers should visit this place as it is not like an ordinary museum. It is situated in Palvelicham, Kerala. Many tourists visit the place to explore the tribal world and gain knowledge. It will teach you about their culture and wildlife.
Pazhassi Raja Memorial
This memorial is situated in the Wayanad district of Kerala. It was built in the memory of Pazhassi Raja. He was important to the state because he started the freedom fight and was one of the initial members of the fight. He was a courageous soul. It is a great place for history loving people. If you have a local guide with you, he may even give an insight into his life. The purpose of building the memorial was to make him popular. Everyone should know the sacrifices that he made for the country. It is visited by many tourists every year.
If you are on an extended trip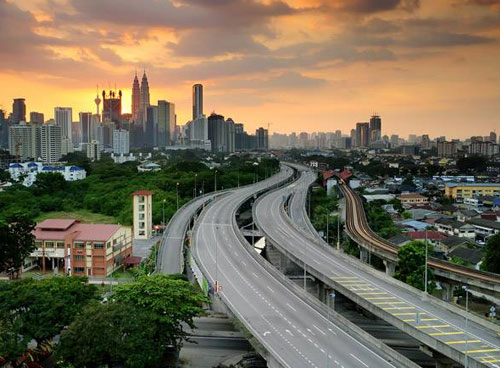 Bangalore
The city has been one of the oldest tourist destinations in Karnataka. It has various places that you can visit and explore. The places that you can visit are Lalbagh botanical garden, Bannerghatta national park, Cubbon Park, Bangalore Palace, Tipu Sultan's summer palace, Vidhana Soudha, Iskcon temple, Dodda alada mara, Lumbini garden, Nandi temple, Bangalore fort, Ulsoor, Hesaraghatta lake, Fun world amusement park, Bull temple road, Hulimavu cave temple, HAL aerospace museum, snow city, Government museum, Sankey tank, Innovative film city, national gallery of modern art, Shivoham Shiva temple and M. Chinnaswamy temple. The list doesn't end here, and there are many more places to visit in Bangalore. Form nature to technology, you will find a place of all aspects here.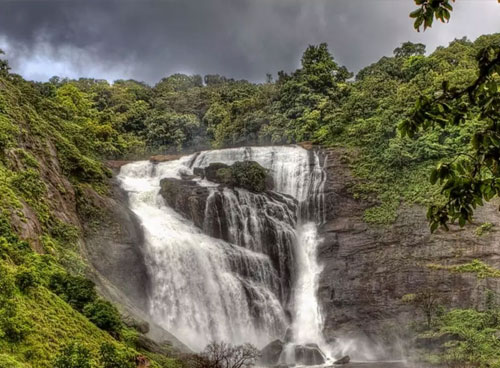 Madikeri
The place has a beautiful landscape and is visited often by tourists. It is mostly known for its fort known as the Madikeri Fort. There is Raja's seat and his tomb that was rebuilt here. The fort can be explored from inside and is also great for photography. There is a temple made for Lord Shiva named as Omkareshwar temple. Many devotees offer their prayers here and seek blessings. Many kinds of spices are grown here and it is beautiful to see them. Abbey falls is another major attraction here.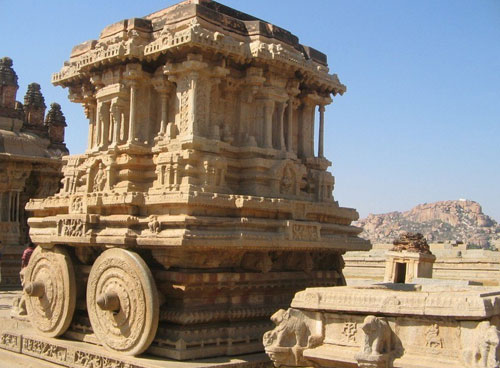 Hampi
It is one of the oldest city that one can ever visit. It has not changed much since the Vijayanagara empire. There are various place to visit here- Daroji bear sanctuary, Hindu Virupaksha temple, river Tungabhadra, Matanga hill, Hemakuta hill temple, Hampi bazaar street, Hampi archaeological ruins, Achyutaraya temple, Hazara Rama temple, Pushkarani, Zanana enclosure, Lotus Mahal, elephant stables, the great platform, underground Shiva temple, Kings balance, stepped tank, stone chariot, royal enclosure, sunset point, Queen's bath, and the list is never ending. This place is known for its historical and religious places.
Safari details
There are three kinds of Safari that you can enjoy here- jeep safari, bus safari, and boat safari. Jeep safari is best for spotting animals and boast safari is best for exploring aquatic animals. Bus safari is not recommended as it is not possible to spot many animals from the bus.
The jeep safari starts at 5:30 in the morning and ends 7:00 in the evening. There is a break time in the afternoon from 10:00 am to 3:00 pm.
The boat safari starts at nine in the morning and ends at six in the evening. The safari closed from 11 am to 5 pm.
The bus safari starts at six in the morning and ends at five in the evening. The break time is from 9 AM to 3 PM. The cost of bus safari is 150 rupees for every individual.
Best time to visit Nagarhole national park:
The summer season starts here in March and confides in May. If you are someone who loves birds, then this is the perfect tie for you to visit the national park. The temperature is too high and therefore many people avoid coming during this season. you won't be able to trek without feeling burned and dehydrated.
The winter season is from November to January. This is the ideal season to visit, and the climate is pleasant at this time.
The monsoon starts in June and ends in September. This is probably the worst time to visit Nagarhole national park. There are leeches all around, and the weather can prove dangerous. Try and avoid visiting the park during the rainy season.
The best months to visit the national park are October to May.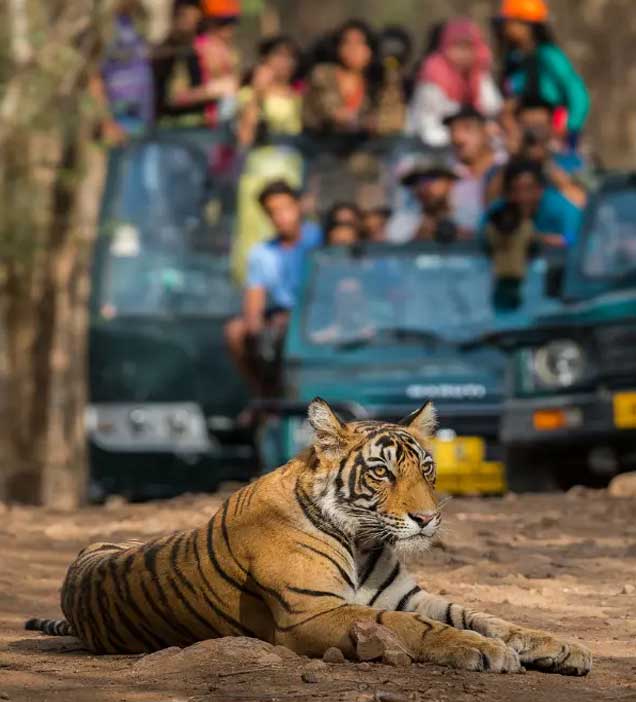 How to reach Nagarhole national park
As the park is only fifty kilometer away from the Mysore city, travelling is not very difficult.
By air: The nearest national airports are Bangalore and Mysore. The nearest international airport is Bangalore.
By rail: This is the most convenient form of transport as Mysore railway station is very near to the park. It will also reach faster than the road as it will cut traffic.
By road: There are regular bus and taxi services from Mysore and Bangalore. It will cost you around five thousand bucks from Bangalore and two thousand from Mysore. It is a little expensive, but you will reach the place comfortably.
Travel tips
Do not carry food items if you want to feed animals. It will harm the animals, and it could also prove dangerous for you.
Keep your calm while travelling. It is a forest, and there is a chance that an animal may chase your jeep. At that point, don't start jumping. Any unstable conditions of the van could lead to an accident. Do not disturb the driver. If you are scared, do not touch the driver. He has been trained for these situations and will take you out safely. Make sure you are harassing the driver.
Do not throw garbage around. As you keep your house clean, you should also keep the forest clean. Many living beings reside here, and the garbage spoils their habitat.
Do not plan your trips during monsoons as the park is wet and muddy. There is not much to see around, and there are leeches all around.
During your visit, carry adequate cash so that you can enjoy your activities.
Do not carry any valuables as it may get lost in the jungle. The responsibility is yours and not of jungle authorities.
Wear comfortable clothes so that you can explore and enjoy properly.
What to carry in Tadoba national park
Sunscreen for your skin: The jungle is a place with a harsh atmosphere. Any kind of encounter with your skin can lead to skin damage. Carry a sunscreen that is suited for you so that you are prepared to face the climate.
Scarf or hat for your hair: Dust will damage. To maintain your hair, you need to cover it with a scarf. It will also save you from the rays of the sun and constant breeze.
Camera: With hills and streams surrounding the forest, the place is appropriate for clicking pictures. The vegetation here is very huge and colorful. You can also click pictures of birds and beetles.
Binoculars: This place is known for its wide varieties of birds, ants, and beetles. It will be difficult to watch them without a pair of binoculars. These creatures are small, and you need something that will help you to take a closer look.
Comfortable clothes and sports shoes: The trails of the jungle are very rough, and so it is very important that you wear or carry a pair of comfortable clothing. If you are going to participate in trekking, then you need comfy clothes.
Carry leech resistant shoes if you are travelling during monsoon.
Conclusion
There are many activities that can be performed and many places that you can visit in Nagarhole. It is full value for money. There is no scope of getting bored as the place is full of adventures. Make sure you take good pictures and create great memories here. Karnataka is an amazing state for spending your holiday. The places here are diverse, and you won't feel that your trip is monotonous. The state is a mixture of religion, history, technology, adventures, amusement parks, nature, and wildlife. The place is totally worth your time and money!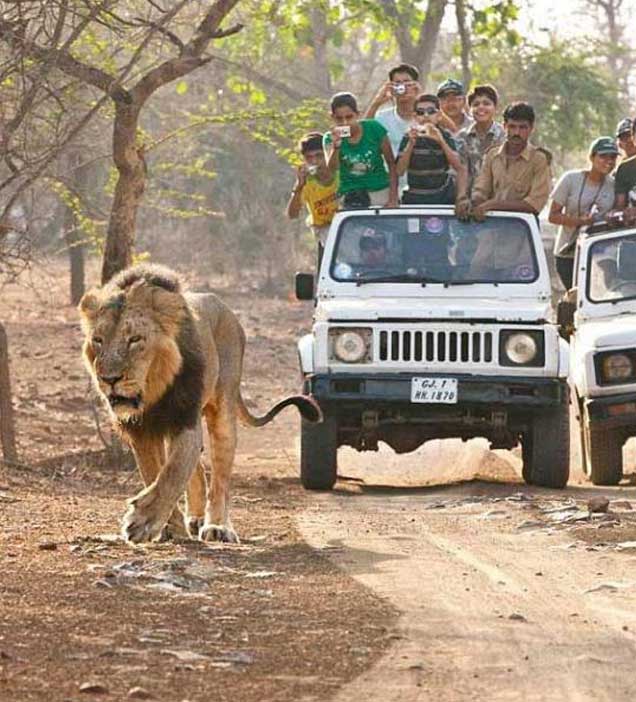 Looking to book a Safari in Nagarhole National Park ? Our wildlife experts are here to help.