Overview
Location:

Chandrapur, Maharashtra

Closest Access:

Nagpur (91 KMS)

Major Wildlife of the park:

Tiger, leopard, Sloth Bear, Indian Bison

Best time to visit:

October to June

Total coverage area:

625-sq-kms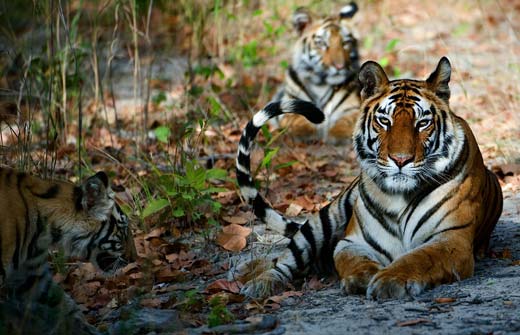 Tadoba National Park is one of the oldest National Parks located in the state of Maharashtra. It is about 91 KMS away from Nagpur and approximately 45 KMS from Chandrapur which is an industrial hub and a district headquarter
Details about Tadoba National Park
This park is one of the oldest National Parks located in the state of Maharashtra. Tadoba is about 91 KMS away from Nagpur and approximately 45 KMS from Chandrapur which is an industrial hub and also a district headquarter.
Tadoba was given the status of the national park in 1955 and a tiger reserve in 1993 under the project tiger reserve. It was the 28th Project Tiger Reserve of India. Tadoba is usually referred as "Jewel of Vidarbha" as it is a heaven for wildlife lovers.
The name Tadoba is taken from a local deity called Taru who laid his life in an epic war with the tiger. This deity of Tadoba is worshiped by the nearby villagers till today.
It is the home of more than 50 tigers along with many other important wildlife animals as leopards, sloth bear, Gaur, Hyenas and Jungle Cat etc.
Tadoba has a beautiful lake which is an abode of March Crocodiles. This lake is the major attractions of Tadoba as here various water birds reside. The exciting tracks of Tadoba national park are the lifetime experience.
Flora and Fauna in Tadoba National Park
The rich and deciduous forest of Tadoba mostly has teak trees. The other important trees in the park are Bamboo, Satinwood, Gardenia, Jamun and Mahua. Few more trees found in the national park are Arjun, Ain, Behada, Bhera, Bija, Bor, Chichwa, Bel, Dhawada, Mowai, Kusum, Rohan, Phetra, Semal, Salai, Sisoo, Shisham, Surya, Sirus, Shivan and Tendu etc.
The biggest attraction in Tadoba National Park is off course the Tiger, however many other wild animals attract the tourists as big herds of chital, the grand Sambhar, the indefinable Barking Deer, the Chousingha, the magnificent Gaur, the vigorous Nilgai, Sloth Bear, the Wild Dog and the silent Leopards.
During the night, there are very good chances to see the little Indian Civet along with Palm Civet, Ratel and sometimes the flying very pretty squirrel.
On the lake many water birds are found as Cattle Egrets, Jacanas and Purple Moorhens. In the breeding farm the Marsh crocodiles are to be spotted. Tadoba is an ideal place for ornithologist as it has got a diverse range of marine birds and Raptors.
Best time to Visit Tadoba
The ideal time to visit the Tadoba is October till June. Tadoba remains opened even during monsoon months.
How to reach Tadoba National Park
Air: Nagpur is the nearest airport located 91 KMS from the park and is well connected with major cities of India
Train: Nagpur (91 KMS) is the best station to catch the train to various places in India. Warora is the closest station located only 51 KMS away
Road: Nagpur 90 KMS, Warora 51 KMS and Chandrapur 45 KMS
Get A Free Quote
Ask for free of charge No-Obligation Quote for Tadoba National Park