Overview
Location:

Govindghat, Uttarakhand, North India

Closest Access:

Jolly Grand airport (315 KMS)

Major Wildlife of the park:

Geranium, Anemone, Prinula, Marsh marigold

Best time to visit:

Mid of July till mid of August

Total coverage area:

87.5-sq-kms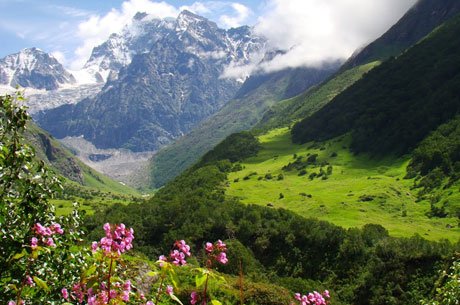 Valley of flowers National Park is famous world over located in Garhwal Himalayas at the Bhyundar Ganga's higher expansion. The valley was confirmed as a national park in 1982
Details about Valley of flowers National Park
Valley of Flowers National Park is famous world over located in Garhwal Himalayas at the Bhyundar Ganga's higher expansion. In 1982 the valley was included in national parks in India.
The Valley of Flowers National Park is stretched in more than 87.5 Sq. KMS of the area and is situated 3,250 meters to about 6750 meters over the sea level. The mention of this vibrant and charming Valley is found in the history of India and also in the great Hindu epics as Ramayana and Mahabharata.
As it is not easily inaccessible hence till 1931 it was not tourist map. However, a British mountaineer Frank Smith lost the way when he was coming back from his journey of Mt. Kamat and arrived at this place that was filled with beautiful flowers.
Frank Smith was overwhelmed after seeing the enthralling beauty of this valley and called this place as Valley of Flowers. Under the jungle, there is a meadow and Pushpavati River runs through this valley.
The various waterfalls enhance the splendour of this valley. Because of the specialities of this valley, many environmentalists and nature lover visit it.
Flora and Fauna in Valley of Flowers
About 300 kinds of wildflowers flourish in the valley after the monsoon in the very natural manner.
Few of the flower species are Geranium, Anemone, Primula, Marsh marigold, Potentilla, Asters, Geum, Ranunculus, Lilium, Corydalis, Braham kamal, Inula, Campanula, Arisaema, Pedicularis, Impatiens, Morina, Ligularia, Bistorta, Anaphalis, Sibbaldia, Saxifrages, Thermo- psis, Codonopsis, Trollius, Dactylorhiza, Strawberry, Cypripedium, Epilobium and Rhododendrons etc. Many flowers of this valley are famous for its medicinal use.
The Asmanda leaf is found here in a great quantity which is a very rarely seen in other valleys of Himalayas. The valley stays in bloom for about 03 months however the composition regularly gets changed every after some days.
Other than the flowers, few Butterfly species, Musk deer, Blue sheep called as Bharal, Himalayan bear, Himalayan mouse found here. Few Himalayan birds along with Snow leopard are sometimes seen in the valley.
Best time to travel to Valley of Flowers
The bloom begins instantly after the snow melts however the climax time is after middle of July till middle of August month.
In September month, the color gets changed and autumn season offer a farewell to these beautiful flowers and the whole vegetation stays inactive for five coming months when the snow covers the valley.
How to reach Valley of Flowers
Air: Jolly Grand airport is the nearest airport 315 KMS far from the park.
Train: Haridwar (310 KMS), Dehradun (325 KMS)
Road: Rishikesh (285 KMS), Govindghat (18 KMS), Ghangaria (16 KMS)
Get A Free Quote
Ask for free of charge No-Obligation Quote for Valley of Flowers National Park