SAFARI INFORMATION
Duration:

12 Nights/ 13 Days

Major Attractions:

Guwahati, Manas, Tezpur, Nameri, Kaziranga, Majuli Island, Sibsagar, Jorhat

Destination Covered:

Guwahati, Manas National Park, Tezpur, Nameri National Park , Kaziranga National Park, Jorhat, Majuli Island

Price from:

US$ 1301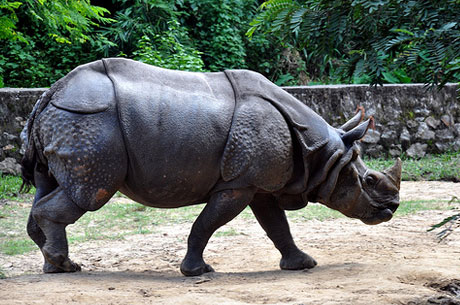 Assam is a very rich state as far as India Wildlife Tourism is concerned. It is located in Himalayan foothills thus blessed with numerous rivers, wildlife sanctuaries, national parks, tea estates and unique culture. The major national parks of Assam are Kaziranga, Manas and Nameri. The highlight of Assam Wildlife tour is mixture of culture with nature.
One horned Rhino, Royal Bengal Tiger and Indian Elephants are the biggest attractions of this Indian Safari. Kamakhya Devi Temple is a main cultural center of Assam and a very auspicious site for Hindus. Jorhat is famous as tea town and staying in Tea Bungalow would be a different experience. Historical Majuli Island would be a major highlight of this tour as it is one of the largest river islands in the world.
Safari Highlights
Tour Itinerary
Day 1 – Guwahati-Arrival
Take the flight for Guwahati from Delhi/ Kolkata and get ready for Assam Wildlife Tour. On arrival at Guwahati airport, you will be assisted by our representative and transferred to the hotel.
Day 2 – Guwahati
Have breakfast and start a sightseeing tour of Guwahati including Kamakhya Temple – a very auspicious place for Hindus. During the Ambubashi festival in Assam, the million of devotees come here to offer the prayer. Apart from the temple also visit other prominent attractions during the day.
Day 3 – Guwahati-Manas National Park
After having, breakfast depart for Manas National Park (UNESCO World Heritage Site) and a very important park for India Wildlife Travel. On arrival at Manas National Park check in and relax. The evening is kept free to enjoy one of the wildlife movies. Manas is a very famous Tiger Safari in India as it is one of Indian Tiger Reserves.
Day 4 – Manas National Park
Today, visit Manas National Park twice to view the wild animals and bird life. Manas is known for many its rich Indian wildlife as one horned rhinoceros, Royal Bengal tiger, Indian elephants, Fishing Cat, Bison, Golden Cat and Leopards etc. Because of Manas National Park's topography, it has got different kind of birds including resident as well migratory. In the afternoon, also enjoy an elephant safari. Manas Tiger Reserve is a must visit place if a person is taking Assam Wildlife Tour.
Day 5 – Manas-Tezpur
It is a time to say good buy to this beautiful park in Wildlife Tour of Assam. After breakfast drive to tea town Tezpur. On arrival at Tezpur, check in to the resort. After having lunch, visit Bamuni Hill to see the ruins of 09th century – a good place to see the artistic beauty. Also take a tour of 19th century Hazara Varman – a huge tank and one of 03 biggest tanks that covers 70 acres of area. Later, take a visit to Cole Park – very beautiful park to see the decorated stone pillars and some sculptural ruins of Bamuni Hills. Assam Wildlife Tour is also known for its cultural and historical values.
Day 6 – Tezpur-Nameri National Park
After having breakfast, transfer to another Tiger Safari in India, Nameri National Park – a home of rare four wild cats. Arrive at Nameri National Park and check in to the Jungle camp. The evening is free to enjoy the serene atmosphere. Nameri is slowly becoming a famous park in Indian Wildlife Tours.
Day 7 – Nameri National Park
Today early morning, start an elephant safari in Nameri. Enjoy the lunch looking at the beautiful river. In the Afternoon, you havenjoy the river rafting and also an angling tour in nearby Jia Bhoroli River.
Day 8 – Nameri-Kaziranga National Park

Today, transfer to Kaziranga National Park – which is a home for highly endangered one-horned rhinos. Kaziranga is also listed as a World Heritage Site by UNESCO. On arrival at Kaziranga, check in to the resort. The evening is free to enjoy the wildlife movie show or the traditional Assamese dance. Kaziranga is a treasure of Indian Wildlife Travel and no Indian Wildlife Tour would be complete without it.
Day 9 – Kaziranga National Park
In the early morning, ride the elephant inside the park to view the animals. Have breakfast and experience Western Range of Kaziranga through a jeep safari. Have lunch and take the afternoon safari in Central & Eastern Range. Kaziranga National Park is a paradise for bird watchers, therefore Assam Wildlife Tour can also be termed as Indian Birding Tour.
Day 10 – Kaziranga-Jorhat
Today, transfer to the tea capital of India – Jorhat. Arrive at Jorhat and check in to the tea bungalow. After having refreshing lunch, take a tour of nearby villages to experience the locals and their life style. You have option to take a tea plantation tour and enjoy the best Indian tea.
Day 11 – Jorhat-Majuli Island-Jorhat
Today, take an excursion to the historical Majuli Island (a Vaishnavite cultural center of Assam) you will cross the great Brahmputra River – (the lifeline of Assam) by a boat. Majuli is one of the largest river islands in the world. Majuli Island is believed to be the seat of Vaishnavite monasteries. Later return back to Jorhat to stay overnight.
Day 12 – Jorhat-Sibsagar-Jorhat
After breakfast, take a day return excursion to Sibsagar – an ancient capital of Ahom dynasty. Take a tour of the military station of Ahom Ruler & Ranghar capital. Also visit Tolatol Ghar – it is a seven-storied building and 03 floors in the same are underground and the remaining 04 floors are above the ground level. The other places of interest in Sibsagar are the graveyard of Ahom King, Vishnu & Shiva Doul and Charaideo Hill Queens.
Day 13 – Jorhat-Departure
Today, transfer to Jorhat airport to embark the flight back to the onward destination. The tour ends.
Get A Free Quote
Ask for free of charge No-Obligation Quote for Assam Wildlife Tour