SAFARI INFORMATION
Duration:

03 Nights/ 04 Days

Major Attractions:

Mahseer Fishing, Birds in the Himalayas, Pancheshwar

Destination Covered:

Padampuri, Bhimtal, Dhanachuli, Devidhura, Saharphatak, Lohaghat and Dhunaghat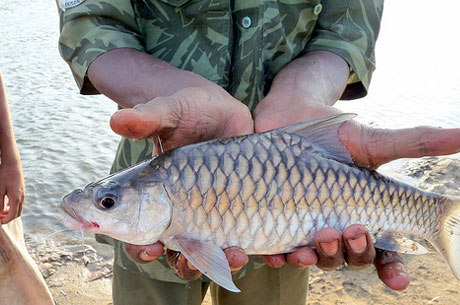 Mahseer is a very famous and beautiful fish found in Indian Rivers. People, who are experienced anglers, always love to go for Mahseer. Mahseer Angling has become a very popular wildlife adventure activity in India.
In foothills of Himalays, Kali and Sarju River are paradises for Mahseer game fishing. The closest place to stay near these sites is Pancheshwar located just 08 KMS away from Kathgodam railway station. Apart from angling, one can find few river bird species here and also some Himalayan wildlife.
Safari Highlights
Tour Itinerary
Day 1 – Delhi-Kathgodam
At appropriate time, pick up from the place of stay at Delhi and transfer to Old Delhi railway station to board the overnight train to Kathgodam.
Day 2 – Kathgodam-Pancheshwar (08 HRS)
Arrive at Kathgodam station and transfer to Pancheshwar through Padampuri, Bhimtal, Dhanachuli, Devidhura, Saharphatak, Lohaghat and Dhunaghat. Arrive at Pancheshwar and check in to the hotel. During the drive you will enjoy the scenic view of Kumaon Himalayas. Afternoon is kept for fishing at the confluence of Kali and Sarju River.
Day 3 – Pancheshwar
The entire day will be used in Mahaseer Fishing.
Day 4 – Pancheshwar-Kathgodam-Delhi
After having breakfast, transfer back to Kathgodam station to board the train to Delhi. The tour ends.
Get A Free Quote
Ask for free of charge No-Obligation Quote for Mahseer Angling North India Tour