SAFARI INFORMATION
Duration:

3 Days

Major Attractions:

Kanha National Park and various wildlife at the park

Destination Covered:

Kanha National Park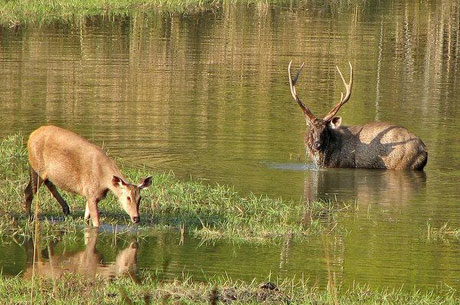 Kanha National Park is considered as one of the beautiful national parks in India. It is situated in Madhya Pradesh state of Central India and the closest airports are Nagpur and Jabalpur.
Kanha Tiger Reserve of India awarded the status of Indian national park in 1955. It became Indian Tiger Reserve in 1974 and is a famous tiger safari in India. This national park of India is the only place in the country, which hag got the endangered Barasingha, this makes Kanha National Park Weekend Getaway a special Wildlife Tour of India apart from the experience of tiger sighting in India.
The Banjar and Halon valleys divide the park in two different zones known as western zone and eastern. Both of these zones are vital for the park due to good population of Royal Bengal tiger and deer. Kanha is regarded one of the well-preserved National Parks of Asia.
Safari Highlights
Tour Itinerary
Day 1 – Kanha-Arrival
Transfer to one of the excellent national parks of India Kanha National Park. Arrive in Kanha and check in to the wildlife resort. Later, visit the park through afternoon jeep safari to track many wild animals in the dense jungle of Kanha.
Day 2 – Kanha National Park

Today visit Kanha National Park through the jeeps once during the morning safari and again in the afternoon along with our expert naturalist. Kanha is known as India's most beautiful national park to experience the forest and wildlife.
Day 3 – Kanha-Departure
Take morning jeep safari again in the national park. At appropriate time, transfer to the onward destination. The tour ends.
Get A Free Quote
Ask for free of charge No-Obligation Quote for Kanha Weekend Getaway