SAFARI INFORMATION
Duration:

3 Days

Major Attractions:

Manas a World Heritage Site by UNESCO is a home for highly endangered one horned rhinos

Destination Covered:

Manas National Park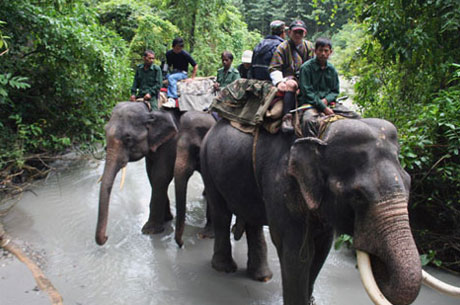 Manas National Park is one of the finest Indian National Parks and this weekend getaway is a very popular Indian Wildlife Tour.
Manas Tiger Reserve is located in the foothills of Indian Himalayas thus blessed with natural treasures. It was declared as one of the Indian wildlife sanctuaries in 1928 and in 1985, it got the status of UNESCO World Heritage Site.
Manas National Park became an Indian tiger reserve in 1973 and one of the national parks of India in 1990.
This Indian National Park has taken its name from Manas River; this river separates India and Bhutan.
This Indian jungle has got about 22 species out of 54, which are highly endangered in whole of Indian Sub-Continent.
A wildlife safari in India is not fully complete without a visit to Manas because it has got Indian Elephants, Royal Bengal Tiger and Indian Rhinos etc. This can also be called an Indian birding tour because there are about 380 bird species in the park.
Safari Highlights
Tour Itinerary
Day 1 – Guwahati-Manas National Park
In time, transfer to Manas National Park (UNESCO World Heritage Site). On arrival at Manas National Park check in and relax. The evening is kept free to enjoy one of the wildlife movies.
Day 2 – Manas National Park
Today, visit Manas National Park twice to view the wild animals and bird life. Manas is known for many its rich wildlife as one horned rhinoceros, tiger, elephants, Fishing Cat, Bison, Golden Cat and Leopards etc.
Because of Manas National Park's topography, it has got different kind of birds including resident as well migratory. In the afternoon, also enjoy an elephant safari. Stay overnight at the wildlife lodge.
Day 3 – Manas-Tezpurhttps://www.insideindianjungles.com/national-park-india/manas-national-park/
After breakfast drive to Guwahati. The tour ends.
Get A Free Quote
Ask for free of charge No-Obligation Quote for Manas National Park Weekend Getaway