SAFARI INFORMATION
Duration:

3 Days

Major Attractions:

Wild elephants with other wildlife and spice plantation

Destination Covered:

Periyar National Park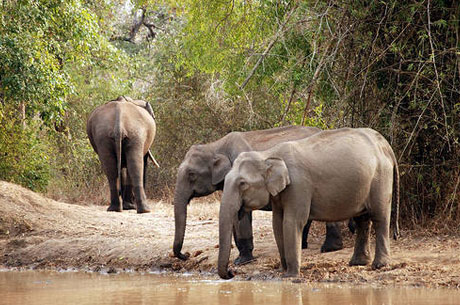 Periyar National Park of India is also one of the famous Indian Tiger Reserves located in Kerala. Periyar Tiger Reserve is a part of beautiful Western Ghats of South India. The best way to spot Indian Wildlife in Periyar is taking a boat ride over Lake Periyar. The major attractions of this Tiger Safari in India are Wild Elephants and Royal Bengal Tiger.
However, since it is a very dense forest spotting an Indian Tiger in Periyar is very difficult. In Indian Wildlife Travel, it is very popular due to its healthy population of Indian Elephants and bird watching tours in India.
The other wildlife found here are Wild Boar, Gaur, Mouse Deer, Wild Dog, Sambhar, Barking Deer and Dhole. For Birding tours in India, Periyar is a perfect Indian National Park as one can see here Cormorants, Darters, racket tailed Drongoes, the Hornbill of Malabar and Kingfishers. It is a great national park of India since it has got the mixture of wild animals, birds and reptiles such as Monitor Lizards, Python and King Cobra. There are approximately 100 species of butterflies in Periyar Tiger Reserve making it a most sought-after destination in IIndian Wildlife Tours.
Safari Highlights
Tour Itinerary
Day 1 – Cochin-Periyar Wildlife Sanctuary
Depart Cochin for Thekkady (Periyar National Park) by a charming route. Arrive in Periyar and check in to your hotel. Late, enjoy a boat ride on Periyar Lake which will give you an opportunity to view the wildlife.
Day 2 – Periyar Wildlife Sanctuary
Today, take one more boat ride on Lake Periyar to see some more wild animals if lucky you might see the herds of wild elephants.
During the day, join a spice plantation tour with our guide. Stay overnight in the jungle resort.
Day 3 – Periyar Wildlife Sanctuary-Cochin
Today depart for Cochin airport to take the onward flight. The tour ends.
Get A Free Quote
Ask for free of charge No-Obligation Quote for Periyar National Park Weekend Getaway