SAFARI INFORMATION
Duration:

3 Days

Major Attractions:

White Tiger at Bandhavgarh National Park

Destination Covered:

Bandhavgarh National Park Weekend Getaway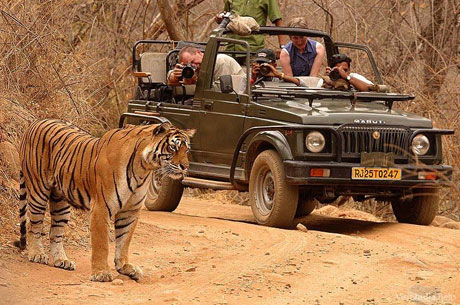 Bandhavgarh National Park of central India is a very popular Indian tiger reserve in terms of tiger sighting in India. The weekend getaway is a best and short Indian Wildlife Travel to experience the wilderness of Bandhavgarh.
It was declared as one of the national parks of India in 1968. It is also a tiger reserve of India under Project Tiger. The land of white tiger is one of the very popular tiger safaris in India.
One can take an Elephant ride in Bandhavgarh national park and in this way they can view the Royal Bengal tiger closely.
The other prominent wildlife of this Indian National Park is Chital, Nilgai, Chausingha, Chinkara, Wild Boar and Jackal. This tiger safari in India also offers great birding experience as well because it has about 250 bird species in a very small national park of India. The Park has some reptiles like cobras, rat snakes, Karaits, pythons, lizards and turtles.
Safari Highlights
Tour Itinerary
Day 1 – Bandhavgarh-Arrival
Transfer to the land of White Tiger – Bandhavgarh National Park. Arrive at Bandhavgarh and check in to the jungle lodge. Rest of the time is kept free to enjoy the serene atmosphere.
Day 2 – Bandhavgarh National Park

The whole day will be utilized in visiting the park through the jeep safaris to see Tiger and other major animals. Bandhavgarh is one of the best national parks of India having the maximum chances to view the tiger.
Day 3 -Bandhavgarh-Departure
After breakfast, depart for onward destination. The tour ends.
Get A Free Quote
Ask for free of charge No-Obligation Quote for Bandhavgarh Weekend Getaway