Indian Tiger or Royal Bengal Tiger
Hi friends,
Are you interested in meeting Indian Tiger?
If really, then hold your heart because you are going to read the life of a thrilling species of this planet. Once you meet me you will never think of any other animal on earth. For sure I am the pride of any tiger safari.

Yes, I am The Bengal tiger, popularly known as the Royal Bengal Tiger. My family is mainly found in India, Bangladesh, Nepal, Bhutan, Myanmar and some parts of Tibet. Because of my attractive look and grace I have cultural and religious importance also. That is why India and Bangladesh have made me their national animal.
Do you want to meet me? Plan your wildlife tour of India.
Indian Tiger's Zoological identity
Genus species
Panthera Tigers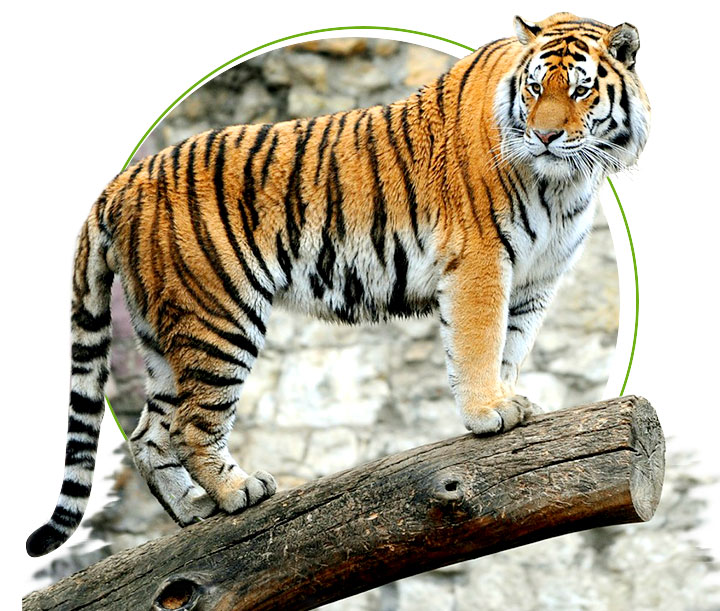 My Appearance
How does Royal Bengal Tiger look like?
Friends you can easily recognize me with my typical color and body. Which is yellow to light orange color with long stripes ranging from brown to black?
There is soft and radish gold fur on my body which gives good grace to me. The lower parts of the limbs are white and the tail is orange with black rings.
Are you interested to see Asiatic lion?
The Size
The male is about 2.5 meter to 3.5 meter in size including its tail. And the female grow almost 2.5 meter to 2.7 meter. The tail alone can reach about 3 feet long.
The Weight
The Weight of an adult male tiger can be 220 kilogram (approximately 490 in pounds) and female tiger weighs about 140 kilogram (approx 308 in pounds).
I have large head, big ears and thick whiskers. There are white spots on my ears. The strong padded paws with rectangle claws makes super grip to catch the prey.The speed of the Bengal tiger is very high. I can run at 95 kilometer per hour. The Bengal tiger has very sharp ability of vision and sense.
I can see to remote distance and sense the prey very quickly. I use my strong fangs for hunting and maiming prey. Natural life span of a tiger goes average up to 15 years but under reserves I can live about 20-25 years.
Interested to visit wildlife safari in India? an Indian wildlife safari will surprise you.
THE REPRODUCTION AND FAMILY GROWTH
After the gestation period of about 3-4 months a female tiger gives birth to 4-5 cubs.
At the time of birth the cubs are helpless to make any movement. A few days after they open eyes and ears.
FEEDING FACT
In the beginning the cubs are fed by the mother. At around 5 months they learn to hunt for their food. When the baby tiger becomes of two years they start to hunt their own food separate from their parents.
MATURITY
A Bengal female tiger makes sexual maturity at the age of 3-4 years yet the male reaches at the age of 4-5 years.
My Taste Side
Know what Indian Tiger like to eat
Though I am known a carnivore animal but will eat whatever I get in the surroundings.
But mostly buck species, wild boars, porcupines, hares, goats, deer and other cattle are liked by me.
A Bengal Tiger can make a quick stalk on its prey and with a pounce can kill it. I drag my catch to a solitary place to enjoy the hunt.
Sometimes to a thrill I attack the other hunters like crocodiles, bears, other tigers, leopards' foxes and wolves.
There are some reports of the Bengal tiger killing and eating humans. But it is very rare.
An Indian Tiger can digest up to 60 pounds of food at one time. I can survive them for around 3-4 weeks without food.
You can read my short biodata on national geographic.
My favorite Whereabouts
Royal Bengal Tiger's Habitat
The altitudes, tropical and subtropical rainforests and grassland are the favorite places to me.
Sometimes I can be seen in the deciduous both hot and wet grasslands in India.
I like the solitary place to dwell. So I prefer the dense forests and lush green area of Himalayas.
How to meet me in India? India is the best place to meet me. If you want to see me in my natural habitat, you can come to the tiger safari in India the national parks.
India is the major destination in the world where you can find our most population. We have attracted wildlife enthusiasts from all corner of the world.
Ok. let me tell you my prime whereabouts:
THREAT TO ROYAL BENGAL TIGERS
Because of habitat loss caused by deforestation and hunting by human poaches I am endangered species now.
Even being common to all the tiger species we are around 2000 left in the world. This is less than half of what the population was just before 10 years.
Before 20th century there were about eight subspecies but over the past hundred years due to hunting and forest destruction tigers population has come down to only a few numbers.
The biggest threat to me is that my natural habitat constantly to be destroyed by people for their self interest.
As a result, I am fighting to survive in a very limited area with less prey to live upon.
The rapid increase in the human population of India has led to a high increase in housing and buildings to adjust the population.
That has born the bad need of materials from the forests such as wood and other stuff.
Poaching of tigers is very common for their fur, bones and skin. My body parts are sold at high price in the black market.
"We need new and sustainable approaches to prevent linear infrastructure from unraveling the tiger conservation wins we have had to date,"
said Ginette Hemly, WWF Senior Vice President of Wildlife Conservation.
THE TIGER PROJECT AND ITS IMPACT
Project tiger is the very popular wildlife conservation project of India, it came into effect in 1972. Before that hunting of tigers was legal in India.
At the beginning of the 1970's our population was estimated to be around 1800, shaking and shocking the mind of concerned authorities to establish a plan to save the Royal Bengal Tiger in India.
Preventing tiger landscape is much vital to sustaining gentle tiger populations but also important to most of the people.
The project tiger is one of the well published wildlife campaigns in the world launched in 1972 to protect me.
In 1973 the authorities realized that the tiger population had dwindled about to 2000 from an estimated 55000 at the turn of the century.
The job of the project is to visualize the tiger reserves as breeding nuclei from there surplus tigers can immigrate to adjacent forests. To muster and support the program much funds and commitments were made.
The Indian Wildlife Protection Act of 1972 helps the government agencies to make strict actions so as to ensure the conservation of the Bengal tigers.
The Wildlife Institute has shown the rapid fall in Madhya Pradesh by 61%, Maharashtra by 57%, Rajasthan by 40%. In 1973 the project tiger initiative began the first tiger census as counted 1827 tigers in the country.
RESERVES AND PREVENTION
There were 39 reserves in India for us covering an area of 3213714 sq. km. tiger conservation is not only an effort to save our endangered species but a means of preserving biotypes of sizeable magnitude.
There are 27 reserves for us in India now, in which Corbett National Park in Uttarakhand, Sundarbans National Park in West Bengal, Kanha, Pench and Bandhavgarh National Parks in Madhya Pradesh, Sariska Wildlife Sanctuary and Ranthambhore National Park in Rajasthan, Manas Tiger Reserve and Kaziranga National Park in Assam Bandipur and Nagarhole National Parks in Karnataka and Periyar Tiger reserve in Kerala are the major ones.
My Past
Historical importance
Since about 2500 BC (before Christ) the Bengal tiger has been India's national symbol. First time it was displayed on the Pashupatinath seal of Indus valley civilisation around (2900BC-1900BC). There after it was the Royal symbol of the Chola Empire from 300 CE to 1279 CE. Now it is the national animal of India. The Indian tiger has been as a symbol of pride by Reserve Bank of India which has taken it as its emblem. Indian currency notes also have image of a tiger.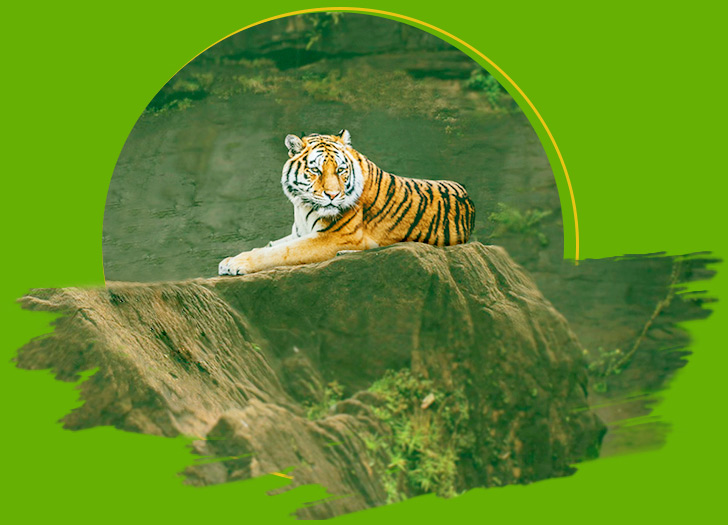 Few Words to have heart for the Royal Bengal tiger
Nowadays the tiger sights have been very rare in India because of profitable business by people. Still a lot more to be done to preserve these magnificent predators from being extinct. If the strict steps are not taken the day is not very far when the people will see me only in the pictures. Please come together to save me and let me adore the earth.
Do you know
Why i am the ROYAL TIGER..?
A tiger never returns to his prey he did not finish A Chinese saying
I have both English bulldog determination and
Bengal tiger strength. Bikram Choudhary
Every woman should have four pets in her life.
A mink in her closet, a jaguar in her garage,
a tiger in her bed,and a jackass who pays for everything Paris Hilton