Overview
Location:

Kemmannagundi, Karnataka, South India

Closest Access:

Mysore (85 KMS), Bangalore (180 KMS)

Major Wildlife of the park:

Elephants, Gaur, Tiger, Panthers, Sambhar, Chital

Best time to visit:

June till October

Total coverage area:

540-sq-kms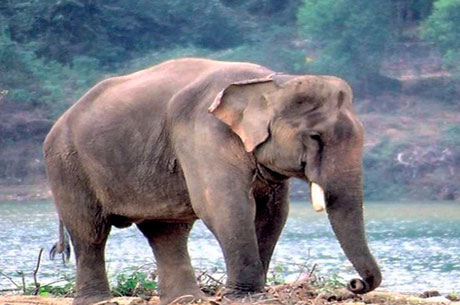 About B.R. Hills Wildlife Sanctuary
B.R. Hills Wildlife Sanctuary is located at an altitude of 5,091 feet. B.R Hills Wildlife Sanctuary is an exclusive mixture of the resort as well as a wildlife sanctuary, it is a must-visit destination for wildlife enthusiasts. Dancing plants here, whistling winds along with spinning streams make a background to few exceptional wild animals in BR Hills Wildlife Sanctuary. B.R Wildlife Reserve is 3,375 feet over the level of sea and is stretched in 540 sq. KMS area of rolling mountains and valleys sheltered in deciduous jungles and Shoals.
The topography of B. R. Hills Wildlife Sanctuary
The BR Hills Sanctuary is a significant connection amid the Eastern Ghats and the Western Ghats. The Cauvery River run Southern East and at Kollegal gets a sudden twist to the Northern and yet again goes back to its earlier route. This shows the geographic importance as well as the magnificent merge of the Biligiri Rangaswamy and Male Mahadeshwar mountain ranges, linking the space amid the Western and the Eastern Ghats.
Main Wildlife of B.R. Hills Wildlife Sanctuary
The BR Hills Wildlife Reserve is an abode of various wildlife species. BR Hills is packed with diverse flora and fauna. The major animals of BR Hills are Gaurs, Sambhar, Chital, bears, Indian elephants, tigers and panthers. A bird watcher can see the more than 200 bird species in BR Hills Sanctuary, the most important birds seen here are the crested eagle and the racket-tailed Drongo.
Adventure in BR Hills Wildlife Sanctuary
Specialized angling, recreational fishing, coracle ride, a boat ride along with watching the bird, taking river rafting, enjoying the trekking, hiking and outdoor camping are the major adventure activities of BR Hills Sanctuary. In the month of April, a visitor can enjoy the magnificent Ratha festival in BR Temple.
The best time to visit BR Hills Wildlife Sanctuary
The BR Hills Wildlife Reserve remains open year-round. However, the ideal time to visit the exotic wildlife of the park is from June till October as this time the wild animals travel close to the waterholes for drinking the water.
How to reach BR Hills Wildlife Sanctuary
Air: Bangalore airport is 180 KMS away from BR Hills
Rail: Mysore 85 KMS, Bangalore 180 KMS
Road: Ooty 245 KMS
Get A Free Quote
Ask for free of charge No-Obligation Quote for BR Hills Wildlife Sanctuary