SAFARI INFORMATION
Duration:

3 Days

Major Attractions:

Short tour to Pench National Park Weekend Getaway featuring exotic wildlife

Destination Covered:

Pench National Park Weekend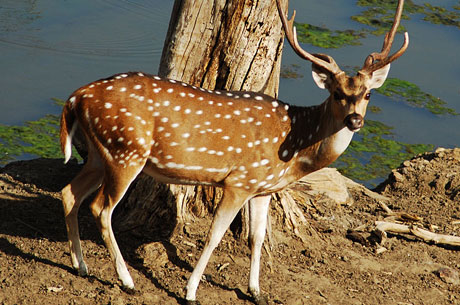 Pench National Park also known as Pench Tiger Reserve is one of the prominent national parks of India famous for tiger tours in India.
This weekend tour is very famous in India Wildlife Travel circuit and one of the shortest Tiger Safaris in India. Pench National Park is named after Pench River, which flows in the park. It is very rich in flora and fauna. Pench River dries in month of April end and due to the scarcity of the water few small pools comes up in the park, these water bodies are the main points to spot the wild animals and if lucky even Royal Bengal Tiger. April end is the best time for tiger sighting in India especially at this park.
The park has about 55 big cats, 201 bird species, 39 mammals and 13 reptiles.
Safari Highlights
Tour Itinerary
Day 1 – Nagpur-Pench National Park
Arrive at Nagpur Airport and transfer to Pench National Park. Rudyard Kipling has mentioned Pench in his famous "Jungle Book".
Arrive at Pench and check in to your jungle resort. After lunch, take an afternoon jeep safari with our expert naturalist to see the rich wildlife of Pench which will include the king of jungle the tiger.
Day 2 – Pench National Park
The day will be utilized in taking two jungle safaris one in the morning and second in the afternoon in Pench National Park to view different flora & fauna. Stay overnight in the wildlife lodge.
Day 3 – Pench-Nagpur
In the morning, visit the park through the jeep safari to track many wild animals in the dense jungle. Later, transfer back to Nagpur. The tour ends.
Get A Free Quote
Ask for free of charge No-Obligation Quote for Pench Weekend Getaway