SAFARI INFORMATION
Duration:

3 Days

Major Attractions:

Gungle safari in Tadoba National Park featuring Tiger and other wildlife of national park

Destination Covered:

Tadoba National Park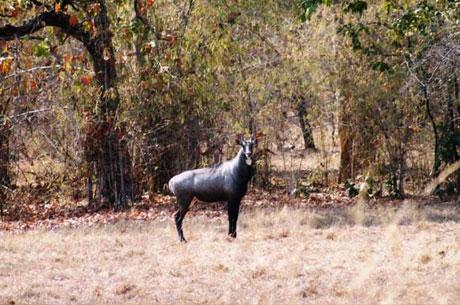 Tadoba National Park is one of the finest and oldest national parks of India situated in the western Indian state of Maharashtra. Tadoba Tiger Reserve of India is 91 KMS away from Nagpur airport, which is connected very well with the flights from major Indian cities.
Tadoba National Park got the Indian national park status in 1955 and Indian tiger reserve in 1993. It was 28th Tiger Reserve of India. The park is usually called as "Jewel of Vidarbha" since it is considered as heaven for wildlife enthusiasts.
This Tiger Safari in India is very popular in Indian Wildlife Travel because this park has about 50 Royal Bengal Tiger along with other Indian wildlife like leopards, Gaur, Hyenas sloth bear and Jungle Cat.
Tadoba Tiger Reserve also blessed with a serene lake, where one can see March Crocodiles. This lake is best for birding in India as numerous water birds can be spotted here. The tracks of the Indian National Park are the unforgettable experience in Indian Wildlife Travel.
Safari Highlights
Tour Itinerary
Day 1 – Nagpur-Tadoba National Park
Arrive at Nagpur Airport and transfer to Tadoba National Park. Arrive at Tadoba and check in to your forest rest house. After lunch, take an afternoon jeep safari with our expert naturalist to see the rich wildlife of Tadoba which will include the king of jungle the tiger.
Day 2 – Tadoba National Park
The day will be utilized in taking two jungle safaris one in the morning and second in the afternoon in Tadoba National Park to view different flora & fauna. Stay overnight in the wildlife lodge.
Day 3 – Tadoba-Departure

In the morning, visit the park through the jeep safari to track many wild animals in the dense jungle. Later, transfer back to Nagpur. The tour ends.
Get A Free Quote
Ask for free of charge No-Obligation Quote for Tadoba National Park Weekend Getaway