Overview
Location:

Karnataka, South India

Closest Access:

Mysore (80 KMS)

Major Wildlife of the park:

Tiger, Leopard, Asian Elephants, Sloth bear, Gaur

Best time to visit:

April to October

Total coverage area:

874.20-sq-kms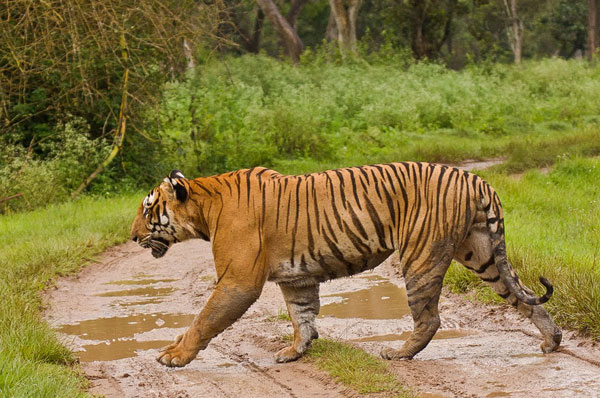 Details about Bandipur National Park
Bandipur National Park is located in the Chamarajanagar district of Karnataka –a South Indian state. Gifted with a reasonable climate and varied geographical characteristics, the park maintains an extraordinary diversity of flora and fauna, creating Bandipur absolute heaven for various wildlife.
In 1973, the park turned into one of India's first tiger reserves. In 1974, Bandipur was declared a National Park. Bandipur has a very special place in the efforts of India for natural preservation. It was the reserved hunting ground of the royal family of Voodiyar. In 1930, it was named Venugopal Wildlife Park.
Bandipur was extended in 1941 to connect the Nagarhole National Park which is set towards the park's northern border. Mudumalai and Wayanad Sanctuaries position towards Bandipur's southern boundary in two different states of Tamilnadu and Kerala correspondingly.
The whole region now comprises the huge Nilgiri Biosphere Reserve, which is India's one of the widest area of protected jungles.
Flora at Bandipur National Park
The park is the home of evergreen, deciduous, and scrubland flora. The main plants of Bandipur are acacia catechu, chloroxylon swetenia, schleichera trijuga, shorea talura, randia uliginosa, cassia fistula, Teak (tectona grandis), pterocarpus marsupium, dalbergia latifolia, anogeissus latifolia, terminalia tomentosa, grewia tiliaefolia, adina cordifolia, butea monosperma, odina wodiar, lagerstroemia lanceolata, emblica officinalis, terminalia chebula, bambusa arundinacea and dendrocalamus strictus.
Fauna at Bandipur National Park
The park has about 70 tigers, more than three thousand Asian Elephants, leopards, Gaur, Sloth bears, and Dholes. The park good population of barking deer, Sambhar, wild dogs, hyenas, Chital, wild boar, spotted deer, mongoose, and four-horned antelope, etc.
There are about 230 species of birds in Bandipur.
The major birds of the park are heron, falcon, stork, woodpecker, sandpiper, Drongo grey jungle fowl, honey buzzard, pompadour green pigeon, egret, red-headed vulture, grey-headed fish eagle, kite, brown hawk owl, lapwing, peafowl, Malabar trogon, bay owl, Malabar pied hornbill, Nilgiri flycatcher, little Spiderhunter, plain flowerpecker, and the warbler.
In reptiles, one may find the King cobra, rat snake, common cobra, water snake, Russell's viper, marsh crocodile, lizard, monitor lizard, chameleon, common krait, frog, Indian python, tree frog, flying snake, tortoise, and toad.
The nearby attractions of Bandipur
The hill station of Ooty, the historical town Mysore, Nagarhole national park, and Mudumalai national park are very close to Bandipur National Park.
Best Time to Travel Bandipur Park
The best time to see the animals in the park is from April to October.
How to reach Bandipur
Air: Bangalore airport is located 220 KMS away from the park.
Train: The Mysore station is 80 KMS from the Nagarhole.
Road: Nagarhole National Park 100 KMS, Ooty 80 KMS
Get A Free Quote
Ask for free of charge No-Obligation Quote for Bandipur National Park