SAFARI INFORMATION
Duration:

3 Days

Major Attractions:

Crocodiles, various birds and major animals like elephants

Destination Covered:

Nagarhole National Park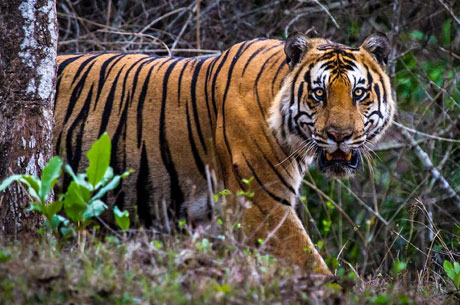 Nagarhole National Park is one of the most popular national parks of India located in Southern part of the country in Karnataka state. It is a tiger safari in India as well as a birding tour of India.
The official name of this Indian National Park is Rajiv Gandhi National Park. Kabini River flows on the north side of Nagarhole, which is a great place to see the birds and wildlife. One can do the coracle ride and boat ride here apart from the jeep safari. If a wildlife enthusiast is taking an Indian wildlife tour then Nagarhole National Park is a must in South India. The main wildlife of this Indian tiger reserve are Royal Bengal Tiger, Indian Elephant, Leopard, the hyena, wild dog, spotted deer, gaur, Sambhar, wild boar and sloth bear. Nagarhole is also known for bird watching tours in India since it hosts more than 250 different species of birds. This national park of India also has healthy population of reptiles as rock python, crocodiles and monitor lizard etc.
Safari Highlights
Tour Itinerary
Day 1 – Bangalore-Nagarhole National Park
Transfer to Nagarhole National Park or Rajiv Gandhi National Park. Arrive at Nagarhole, check in to the hotel. After lunch, take the wildlife safari in the Nagarhole National Park with our expert naturalist. In the evening enjoy one of the wildlife movies. Stay overnight in a wildlife resort.
Day 2 – Nagarhole National Park
After sipping a cup of tea or coffee, start a boat ride in the backwater of Kabini River to view the crocodiles, various birds and major animals like elephants etc. In the day you may take one elephant ride. In the late afternoon, take one more jeep safari.
Day 3 – Nagarhole National Park-Bangalore
In the morning, transfer back to Bangalore. The tour ends.
Get A Free Quote
Ask for free of charge No-Obligation Quote for Nagarhole National Park Weekend Getaway