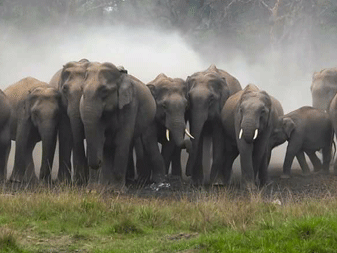 Kaziranga National Park is located in Assam. It is spread over the region of Golaghat and Nagaon District of Assam and Karbi Hills and Anglong Landscape (Both in Burma). Kaziranga National Park is the habitat for Single Horned Rhinoceros, Swamp Deer, Royal Bengal Tiger, Golden Tiger, Asiatic Wild Water Buffalo, Elephant, and so many traveling birds. Kaziranga National Park Assam is mostly famous for its Indian rhinoceros.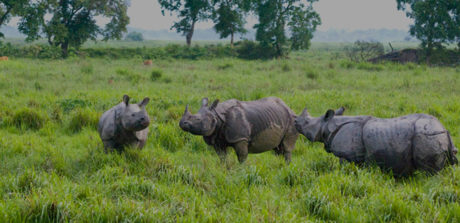 Single-horned Rhinoceros were hunted by Poachers and hunters for their horns. They sell it at high prices on the black market. It has some medicinal value as an Aphrodisiac. This was the main reason people started hunting them. At one point in the 19th century, they were almost on extinction until Mary Curzon came.
Mary Curzon was the wife of the British viceroy at that time. One time when she was on tour of Kaziranga Forest she could not find a Single Rhino. On further investigation, she found that Poachers are killing them for their horn to sell them on the black market.
She took this matter to her husband and thus it was declared a reserve forest named Kaziranga Reserve Forest. Agricultural expansion, logging, development, and timber thief caused the deforestation of more than 120,000 square kilometers each year.
This results in reduced home space for the Rhinoceros and other big animals like Elephants, wild water Buffalo, Royal Bengal Tiger, etc. These all animals are solitary creatures. They require territory.
Human Population Growth and Deforestation are proportional to each other. This relationship causes the loss of biodiversity hotspots. More Rhino is born than killed by Poachers. It is hard to provide habitat to the rhino when the population is increasing at an alarming rate.
What are the challenges?
1. Kaziranga National Park was made a reserve forest on June 1, 1906.
2. A RiveBrahmaputrr runs through Kaziranga National Park. The floods kill a lot of wild animals every year.
3. Poaching is also a very big concern. Rhino killing for their horn is common. The horn is supposed to have Aphrodisiac values making it expensive.
4. Deforestation, Increase in Population along with wildlife habitat, Agriculture expansion, etc are also some serious concerns.
Success Story:
Kaziranga National Park now has the largest population of Single Horned Rhinoceros. Once from practically extinct they now have a strength of 2401 in Kaziranga National Park.
This was possible due to the sheer will and efforts made by the Assam Government, the Government of India, the World Wildlife Fund India, and some private NGOs. Rhinos in Kaziranga make up to 80% of the Rhino population in the world. This is a huge success. Some other big animals have the same story.
Here is a quick glance through the Numbers of Big Fives at Kaziranga National Park:
In 1968 Assam state government passed a bill named Assam Rhinoceros Bill that imposed a heavy penalty for poachers. Throughout the time it reserved more fame through protective movements and became a UNESCO heritage site in 1985.
Many private organizations and NGOs and governments came forward for this noble cause. It is the efforts that have resulted in the highest density of Tiger, Increased no of endangered one-horned Rhinoceros, Swamp deer conservation, Wild birds Habitat, etc. It is WWF Ecoregion and Endemic Bird Areas.
Awards and Achievements:
Kaziranga National Park is an incredible example of conservation efforts.
1.   It is a great conservation success story- Dipankar Ghose director of the World Wildlife Fund in India
2. Rhinoceros is the state animal of Assam, and people have a very deep-rooted affinity with them- Sanjeev Kumar   Bora, Director of Forest Conservation at Kaziranga National Park
3. Kaziranga-The Frontline of India's Rhino Wars- News.Mongabay.com
4. 2 times consecutive Millenium Award for Rhino Conservation Program by World Wild Life fund.
Upcoming Challenges:
Inadequate habitat is always a factor when it comes to wildlife conservation. Big animals require territory and fight when one intrudes on others. This results in conflicts resulting in death.
Railway networks go through Kaziranga National Park. Sometimes elephants, tigers, and Rhinoceros die in rail accidents. We need a better disaster management strategy. Every year flood causes the loss of wildlife as well as revenue (the Park is closed in flood season for months).
Youths from the local region should be hired as forest guards. This gives the opportunity for employment to the locals. They know the terrain better and can do a better job protecting the habitat given a chance.